By Marie Sherlock
Most people have heard of "Keep Austin Weird" and "Keep Portland Weird." They may even know that the original motivation for the slogan (in both cities) was to promote local, small businesses. Apparently, in a McDonald's/Walmart/Home Depot saturated world, the concept of supporting local Mom & Pop Shops is, in itself, pretty strange.
But the idea of keeping Austin and Portland weird goes beyond encouraging patronage of those cities' home-spun businesses (although that, in itself, is a laudable goal!). For many Portlanders like myself – and Austinites, I'm pretty certain – the sentiment encapsulates an entire region-wide culture that allows all of us to be ourselves, no matter how "weird" that may seem to the rest of the world. (Gotta add here that supporting local/unique businesses and all-things-authentic hasn't hurt the travel industry in these "weird" locales either.)
What do I mean by "weird?" In this context weird refers to most any behavior that may not fall within the expectations of our consumer culture. That includes a whole lotta "shoulds" surrounding appearance and status: that you must look a certain way (hair, clothing, makeup), acquire certain things (houses, cars, furniture) and perhaps even be certain people (doctors, lawyers and stock brokers = good; part-time artists, community organizers and baristas = not so much).
An aside: I love this how-to-be-authentic motto: "Don't 'should' on yourself." 🙂
A few Portland-specific examples of Embracing The Weird illustrate my point: Portland is the kind of community where moms can show up at PTA meetings in jeans, t-shirts and sneakers, sans make-up and with streaks of gray in their hair that have not been touched up – and feel totally welcome and unjudged. We've got whole neighborhoods where chemical-laden yards (the kind that look like carpets) are the exception, rather than the rule. ("Brown is the new green" was an environmental battle cry in Portland long before California was forced to adopt it.) It's the type of city where you don't bat an eye if you see someone at the local coffee shop with their pajama bottoms on and it's no big deal if the bicyclist (and there are MANY here which, in itself, verges on weird) who just whizzed by has shaved himself bald except for the peace sign he's sporting on the back of his head. I could (gladly) go on and on.
All of these examples say, to me, that local residents don't just do the knee-jerk, what-everybody-else-is-doing thing. We don't march in lock step with our "keep up with the Joneses" culture, a culture that is spurred on by Madison Avenue's cult of consumption and adheres to but one commandment: that every human want or need can be satisfied with a purchase, be it hair dye, Manolo Blahniks (I had to look that one up!) or granite countertops.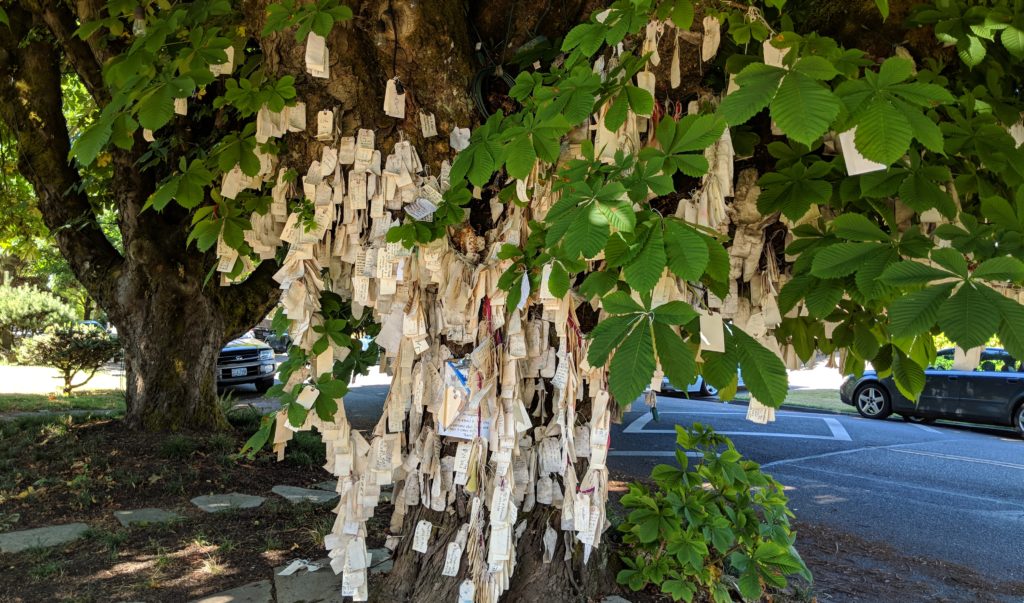 Questioning the culture and thinking for ourselves is a good thing! There was a time when the culture and its institutions – from churches and schools to businesses and whole communities – mirrored our values and, in the case of parents, helped to reinforce the beliefs we were trying to instill in our children. More and more, however, the larger culture is sending messages that are in stark contrast to those most of us hold dear. It's tremendously difficult to swim against the tide, if the tide is in fact a tsunami of messages that we have to look, act and even think a certain way. We can easily lose sight of what's truly of value: kindness, authenticity, justice, curiosity, love…
I'm not saying Portland (or Austin) is perfect – and I'm also not saying that you can't be yourself in other cities and towns. But I do think it is quite wonderful that entire communities are now declaring, even campaigning for, everyone to be themselves. Austin adopted "Keep Austin Weird" in 2000, Portland hopped on the bandwagon in 2003. Then came Louisville, Kentucky in 2005, Missoula, Montana in 2010 – and Indianapolis in 2013, with a slightly different take on the theme: "Keep Indy Indie."
So that's why I'm calling for Keeping Every City Weird. I'd love to see a host of communities, big and small, join us in our weirdness. If adopting these mottos results in more local, small, not-cookie-cutter-but-unique businesses surviving, that's great.
And if it further results in each authentic individual thriving, that's even better. 🙂