By Marie Sherlock

I had the occasion recently to sit for some time at a "gaming machine" at an Indian Casino.

A little backstory here: Casinos often allow RVs to park overnight for free – or almost for free, after you gamble just a bit. While I AM NOT (I hope the BOLD CAPS came through on that) an "RV person" (they kinda freak me out), I LOVE MY HUSBAND. And he wanted one pretty badly. So now we have an RV. The reason, as noted, is because I LOVE MY HUSBAND. This is how marriage – sometimes – operates.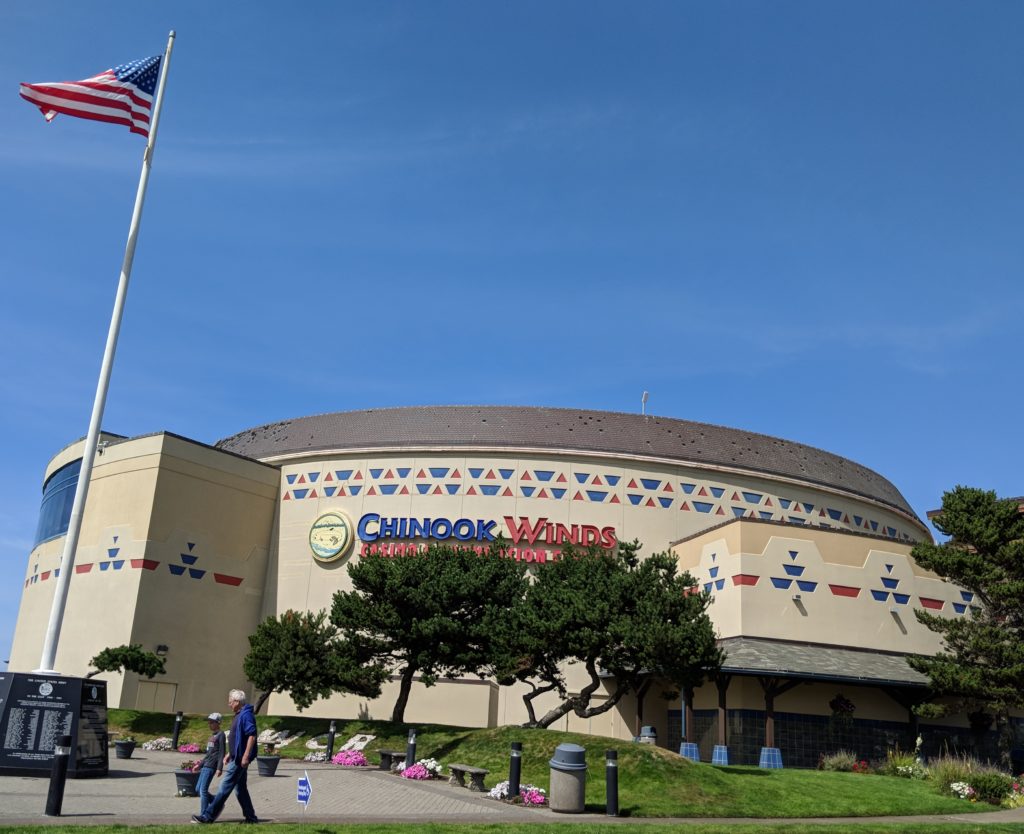 After paying A LOT of money for the RV, this free-dry-camping possibility appeals to me very much. If I have to gamble a bit for a "free" spot, that's not a problem, even though I'm not from a typical gambling demographic group. While I am now pretty much middle (to upper-middle?) class – based on my education, mostly – my roots are solidly blue collar. And studies show disproportionate numbers of low income/education individuals gamble at Indian casinos.
Make no mistake: I am proud of my blue collar roots! Back in the day, my parents (and assorted aunts and uncles) occasionally visited Reno for gambling getaways. I accompanied them when single and then with my husband once married. It was fun! We did not pawn our wedding rings or even spend/lose much money to be truthful. We always considered our losses to be money (relatively) well spent on entertainment. Back then, food was super cheap – and so were the drinks. And the room rates were crazy reasonable as well. We even had a Black Jack table that we returned to for years that had a 50 cent-a-hand minimum. You couldn't lose much there if you tried (plus, you know, those free drinks). Like I said, it was fun – CHEAP fun!

Times have changed. No more 99 cent buffets. No more free alcohol (at least at the Indian Casinos). Minimums at 21 tables are now $5 and up. The old "one armed bandits" (slot machines) have no arms/levers to pull (that would take too long!) and instead of coins cascading out when you win – that was kinda cool! – you receive a computerized receipt. The rates at most casino motels aren't any better than other accommodations. And then there's Vegas which makes me want to puke (that's an entirely separate blog!).

So I don't gamble much any more. But then the whole Free Urban/Casino Boondocking option swept over us with our new status as RV Owners Looking For A Deal. So we found ourselves at Chinook Winds Casino in Lincoln City, Oregon (you can actually see the Pacific Ocean from the RV area – I'm NOT making this up!).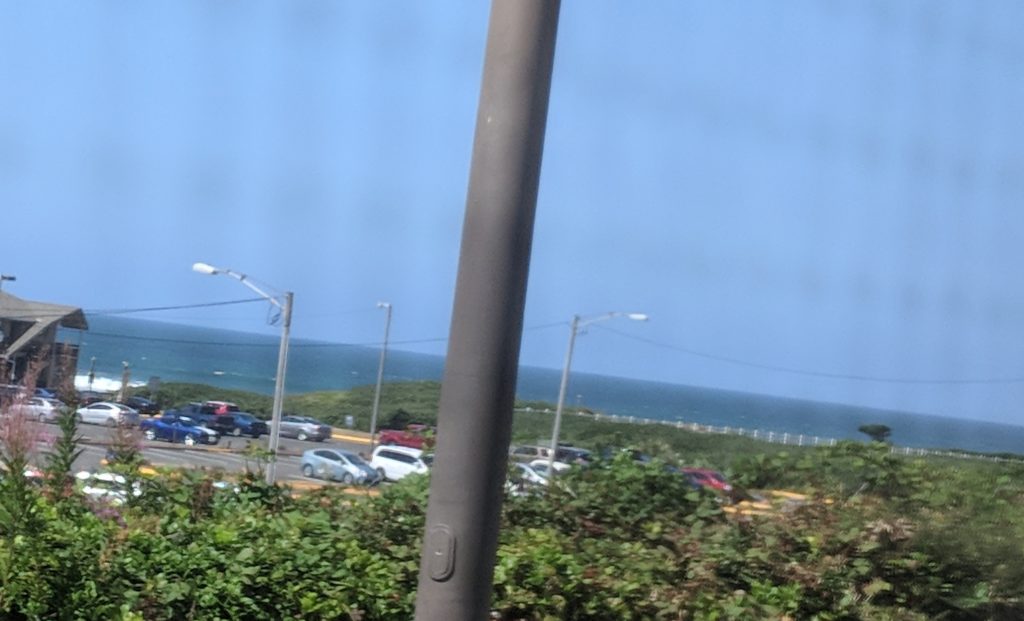 Back to my Casino Epiphany. I sat for quite awhile at a few machines. Drinking (free!) coffee and not really winning or losing. But I began to talk to the folks who sat next to me. Typically we talked about where we were from, our kids, stuff like that. Some shared their gambling "strategies" – like looking for patterns in the Keno games (I thought that was pretty interesting) and when to walk away when a machine goes "cold." Another told me how she had advised a stranger playing next to her that he should stay at his machine cuz he was going to hit a big one (and the stranger, indeed, did hit an $1800 jackpot).
We never talked politics – things may have gone sideways if we had – but I discovered that I was really enjoying the conversations. I found myself smiling. Laughing. And walking away with just a little less dread about the world we currently live in.

I have, frankly, been feeling EXTREMELY estranged from a large portion of Americans of late. It's a crappy feeling. Relatives who I could have had a lovely little "catching up" conversation with at a summer reunion in the past are now posting memes on FB that are (IMHO) factually baseless and/or just plain cruel. Occasionally I make comments (always respectful but pointing them to video, audio, research, snopes, etc.. proving the opposite of the posted memes). It's an utter, absolute, soul-sucking waste of time.

And then there's the nearly universal phenomenon of everyone staring at their phones (when waiting for anything, when walking, when sitting next to you at dinner!) seemingly for dear life – or, it sometimes feels like, simply so they don't HAVE to interact, make small talk. With ME.

While I absolutely understand the emotional basis for pulling out that phone or staring straight ahead at your slot machine (I am an off-the-scale introvert), there's a strong argument for doing the opposite, according to a recent NPR health news analysis. The research shows that small efforts to engage with strangers result in a boost in our happiness and in our feelings of connection with our community (whatever and wherever that community might be).
So my deduction – that I felt better after my chit chat with those fellow gamblers – was not a one-off. It's a THING. Minimal attempts to reach out – to your barista, the person in line in front of you at the grocery store, your mail carrier, complete strangers in random places – result in increases in happiness for all involved.

And who knows? The optimist in me is inclined to think that these tiny bursts of civility could be the foundation for greater connection, deeper understandings, even a meeting of minds.

Can world peace be far behind? Hope springs eternal. 🙂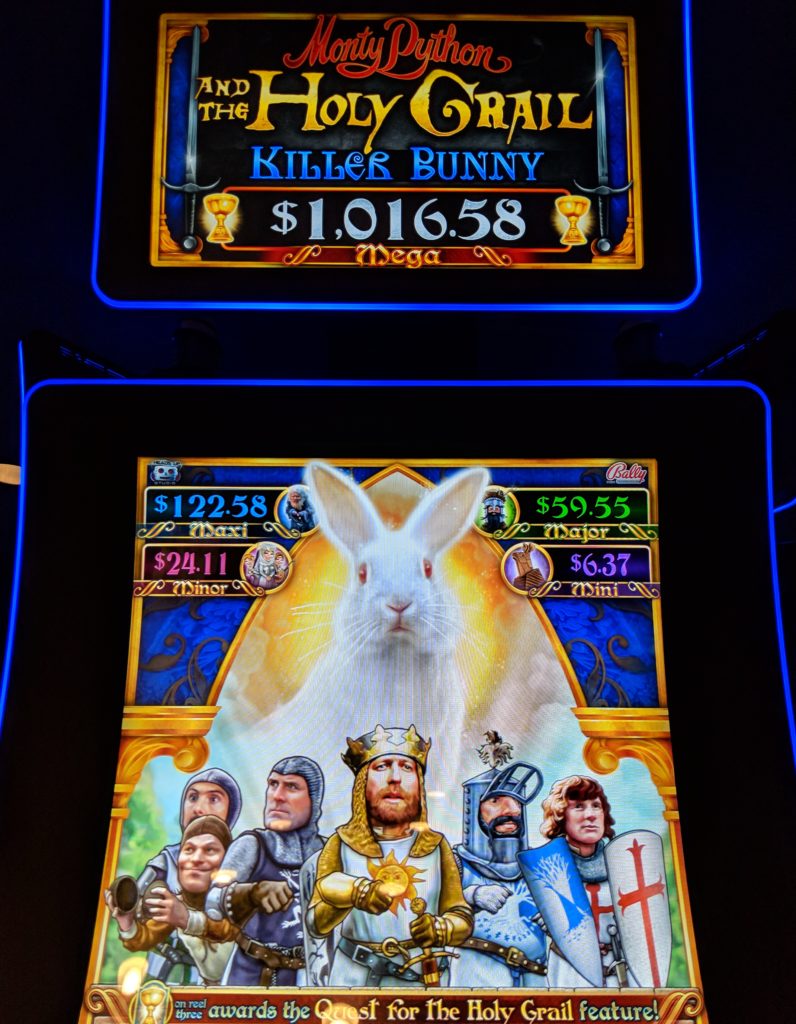 PS: I need to add here that, in my mind, gambling has become a regressive form of taxation for the most part. Part of me is fine with the existence of Indian Casinos – given our horrible history with those native tribes. But, it's not a win-win (ha!) scenario. A topic for a future essay/rant. 🙂