By Marie Sherlock

British Columbia's Festival du Bois – "Festival of Wood" – has been on my (Pacific Northwest) Bucket List for years. This annual Francophone event takes place in the Maillardville neighborhood of Coquitlam, British Columbia each March and celebrates that area's claim as the the center of Francophone culture in BC.

I live in Portland, Oregon. It's a five hour drive, give or take. I'm a devoted Francophile – and traveling all the way to France is spendy, exhausting and time-consuming (albeit fantastic).

So why hadn't I gone? I examined my conscience: I had no good excuses.

Then 2019 rolled around and – voila! – the festival is taking place ON MY BIRTHDAY. It's a sign, right? I. Must. Go.

So I did. This past weekend I wore my best red plaid shirt (read about that below) and mingled with a bunch of fun-loving, Francophone characters. It was a blast.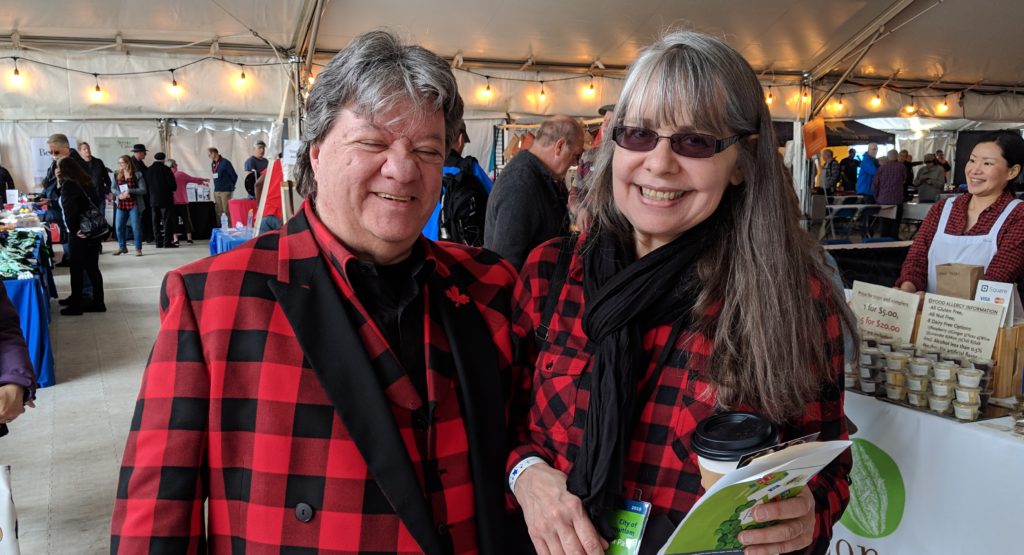 Here are five reasons that YOU should experience the Festival du Bois next year:

# 1. You Can Practice Your French.

Remember this is a Francophone event – i.e. the entire premise is that folks attending it embrace the French language.

You don't speak French? Pas de probleme! You'll get by just fine speaking English.

But if you, like me, like to dabble in la belle langue, you can do that to your heart's content. It adds a certain je ne sais quoi to the entire celebration. Trust me!

# 2. The Music!

I did not know what to expect in the music department. But I was blown away by the talent. The music was largely of the Acadian genre – a blend of Celtic/French/folk music practiced by descendants of French colonists who settled in Eastern Canada (Quebec, New Brunswick, Nova Scotia, PEI…).

All of the music was lively and enchanting. I was particularly enamored of the band Comte de Clare. The fiddle player (who looks like a young version of Craig Ferguson) was phenomenal!

I think Acadian is my new favorite genre of music. 🙂

# 3. The Dancing!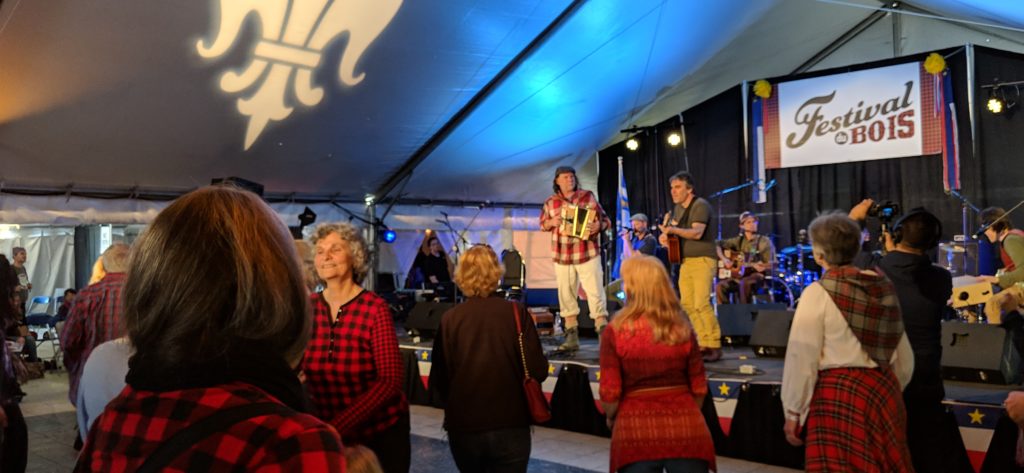 Let me throw this out there first: I am the LAST person who will join others on the dance floor. I may tap my feet and bob my head while sitting and enjoying the music but I'm not going to go out there and make a fool of myself. Ain't happening.

But that's just what I did at Festival du Bois. Couldn't stop myself. (Please note here that I don't drink – except maybe once a year – so alcohol was not my motivation.)

The music was so amazing. Kids, parents, seniors – everyone – was dancing. Alone, in pairs, in groups. Just having fun, moving to the music.

# 4. The Food!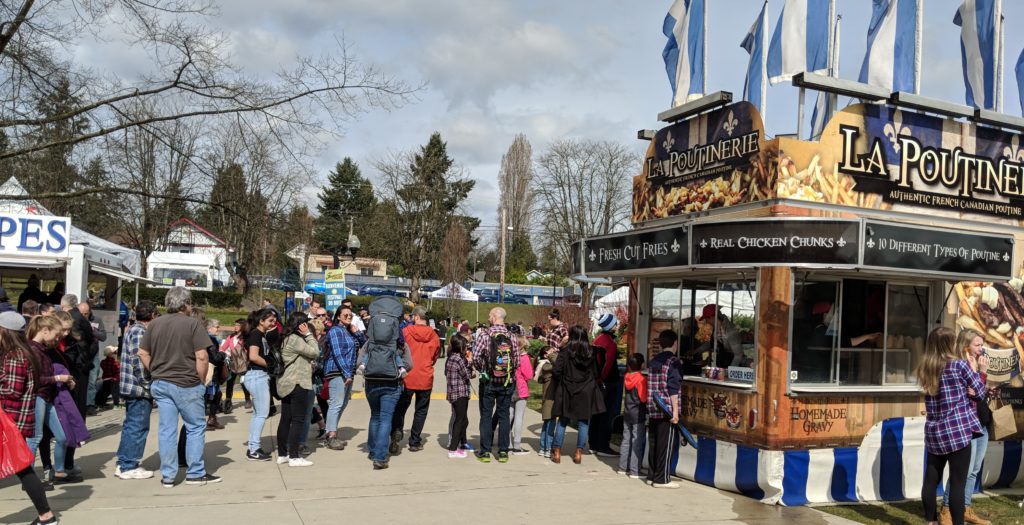 The poutine line stretched seemingly FOREVER. That's okay. Poutine (essentially French fries topped with gravy and cheese curds) is NOT one of my French-Canadian must-haves (my hubby, however, had to partake). I was most interested in the tourtiere – French-Canadian meat pie. I have been enjoying this traditional treat as a Christmas Eve staple all of my life, thanks to my French-Canadian mother. Since she's passed away, I have now assumed the mantle as the Meat Pie Maker, a role I embrace with gusto.
I was curious as to how these would taste. There were definitely some different spices going on – but they were delicious. I also couldn't pass up the crepe booth. Dessert, right?

Sitting in the Grand Chapiteau (Big Tent or Main Stage), eating my tourtiere and listening to marvelous music (en francais!), I was in my Happy Place.

# 5. The Wearing of the Plaid.

What the heck? It's a lumberjack thing. The first French-Canadians in Maillardville worked in the timber industry. Thus, the red plaid theme – or, as the festival promoters call it "The Wearing of the Plaid."

And, for some reason (kismet? lunacy?) I actually own a red plaid shirt AND a red plaid jacket (I nicknamed the latter my lumberjacket :). I opted to leave the "Floyd R. Turbo" hat at home – that's a Johnny Carson reference; aging myself here. It was a good decision.

Not EVERYONE wore plaid but at least a third of those joined in on the theme.

Now that I've experienced my first Festival du Bois, I can state – without hesitation – that it will not be my last! Next year, look for me among the red-plaid-wearing-gray-haired ladies out on the dance floor. There should be several of us!