By Marie Sherlock
Travel – if done correctly – is always a learning experience. Traveling to a country whose language is foreign to you and then attempting to absorb said language while there amounts to a learning experience – on steroids.
As part of my half-century (!) attempt to master the French language, I've had the great good fortune of participating in two excellent French language programs in situ, so to speak: L'Institut de Français and Le Français Chez Claudine.
There are countless immersion programs in France – so why did I choose these specific courses? Well, in April of each year, Alliance Française de Portland (one of over 1000 chapters worldwide of this organization that promotes French culture and language) holds their annual gala and auction. Every year – for as long as I can remember – they've offered two different French immersion experiences. One is a one-on-one with a French teacher (Le Français Chez Claudine) in a small town in the Burgundy region. The other is two-weeks of instruction at the esteemed L'Institut de Français in Villefranche-sur-Mer near Nice. I bid on the two weeks at the L'Institut de Français and won it at a good price, which also benefited the nonprofit Alliance Française. I signed up for Chez Claudine through her website, paying her usual rates.
In this blog, I'm offering up my impressions – pros, cons, general observations – of these two (very different) opportunities for those who are considering one or the other program and might benefit from a firsthand look at each.
First a brief description of each for the uninitiated: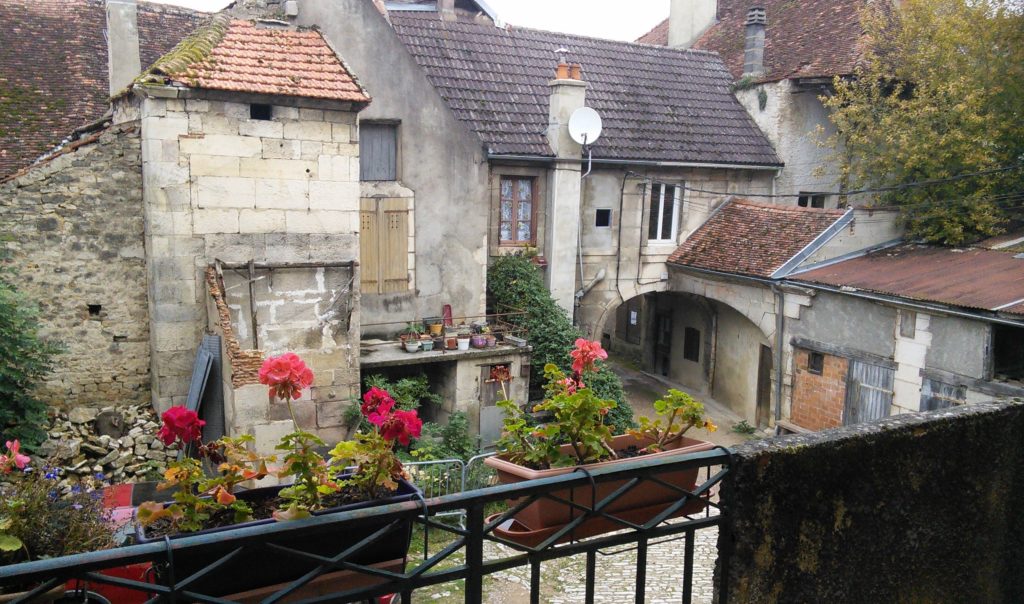 Le Français Chez Claudine is exactly as it sounds: French at Claudine's place. Claudine's website describes the course as a "language homestay." But it's much more than that. You'll have separate accommodations in Claudine Alberti's 17th century former convent – a spacious and very French one-bedroom apartment (Claudine lives upstairs). Each morning Claudine will join you for breakfast, followed by three hours of one-on-one individualized French instruction after which Claudine will treat you to a bountiful French dejeuner. Your stay is in the typical French village of Montbard (population 5,331) in the Bourgogne region.
L'Institut de Français is perhaps the most renowned French immersion program on the planet. (Please note: L'Institut de Français in Villefranche is a private, independent enterprise, not to be confused with the French government's Institut français, a network of publicly supported language centers.) L'Institut occupies a stately mansion that hugs the cliffs above Villefranche-sur-Mer. It welcomes approximately 60-70 students at a time, divided (after testing) among eight levels of French – from absolute beginner to advanced. Instruction starts at breakfast and runs for about eight hours Monday through Friday. The minimum stay is two weeks, but those short stints are limited. Nearly everyone is there for a full month.
I spent the minimum amount of time in each program: one week with Claudine and two at L'Institut. In a nutshell, I highly recommend them both. But they are different. You may fare far better in one than the other. Here's my take on the pluses, minuses (not many!) and differences of these programs.
Similarities
The courses do share several attributes. Both are intense. The teachers are well-trained and deeply knowledgeable – and strict (which I came to realize was a GOOD thing). The curriculum and its execution at both locations are highly professional and geared to helping you maximize your efforts.
And neither is inexpensive – which, of course, makes sense for such high quality services. The current cost for four weeks of instruction at L'Institut de Français is a très cher $4,638 (which includes the 80 euro non-refundable registration fee) for the more desirable months; the "low season" months will set you back $3,855. Remember here that the cost of accommodations is extra – L'Institut can arrange them for you or you can find them on your own – but you will be provided with breakfast and (a superb!) lunch on weekdays. A full four week stay with Claudine is $4,993 but includes your accommodations and most meals as well. (These are estimates. Please check the websites for exact costs.)
So there are definite similarities. However, these two programs are also worlds apart in many ways. Here are my takeaways from my two very different but very rewarding experiences.
L'Institut de Français
I am sitting in my French class at L'Institut de Français in Villefranche-sur-Mer, an idyllic French Riviera village nestled into the coastline about 10 miles from Nice. If I were to look out the window, I'd be rewarded with a dazzling, panoramic view of the Mediterranean, complete with glimpses of yachts of the rich and famous – and also of their mammoth mansions cascading down the Cap de Ferrat across from Villefranche harbor.
Although it is October, the weather is perfect. Every. Day. About 72 degrees, with cerulean blue, cloudless skies. Paradise, n'est-ce pas?
Me, I notice none of it. I am attending perhaps the most prestigious French school on the planet. At orientation on the first day, I learn that the Institut has hosted an array of celebrities from Brad Pitt and Angelina Jolie to the former prime minister of Australia and the Queen of Norway. I didn't need to know any of that – I already feel WAY out of my league here.
I am, on the one hand, ecstatic: I'm in France! On the Mediterranean! At L'Institut de Français! Learning French! I'm also – appropriately, in my mind – overwhelmed, even somewhat terrified.
Orientation is in English (one day of reprieve!). Frédéric Latty, the academic advisor and assistant director of the Institut, thoroughly and humorously guides us through the program and its expectations. We will be schooled using the Institut's "Total Approach" combining classroom work, audio-visual methods and applications in real world situations, completely en français. And, yes, the rumor is true: we will be fined two euro for any non-French utterances (more about that later).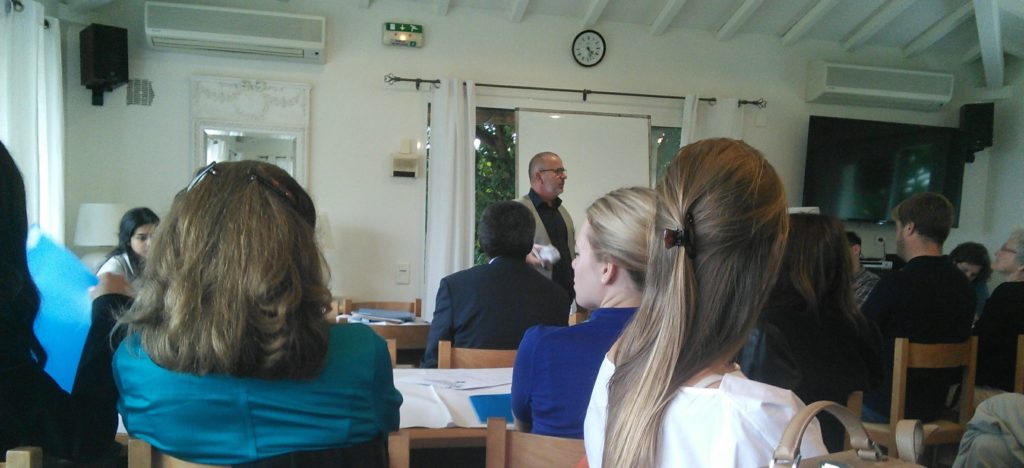 Then it's time for our placement tests – six total. Through some inexplicable combination of good and bad karma, I am placed in the third highest level.
I suffer through one day of over-my-head French but conclude quickly: I. Do. Not. Belong. Here. I let the teacher ("la prof") know what I'm thinking and, essentially, I ask for a demotion. Pas de problème. The next day – after a convivial discussion with Latty – I'm comfortably ensconced in the third intermediate level (one step down) with a delightful and hilarious teacher and a roomful of simpatico women. I am not saying "Je ne comprends pas" nearly as much. I am still sufficiently challenged – but in a non-panic-stricken way.
Our daily schedule: At 8:20 am we have our petit déjeuner with our classmates – while, of course, speaking only French. Class follows at 9 am immediately followed by "labo" – very different from the ALM laboratories of our youths. We don headsets with our teacher right there, questioning us live, no recordings, and we are responding vite, vite, vite! After "une petite pause" (coffee break) it's back to class with more rapid and – frankly – sometimes unforgiving French drills (if you hesitate un peu in answering, you may hear "quittez!" and the prof is on to the next student).
Note to self: Next time, bring a thicker skin. (Actually, I managed to develop one pretty quickly.)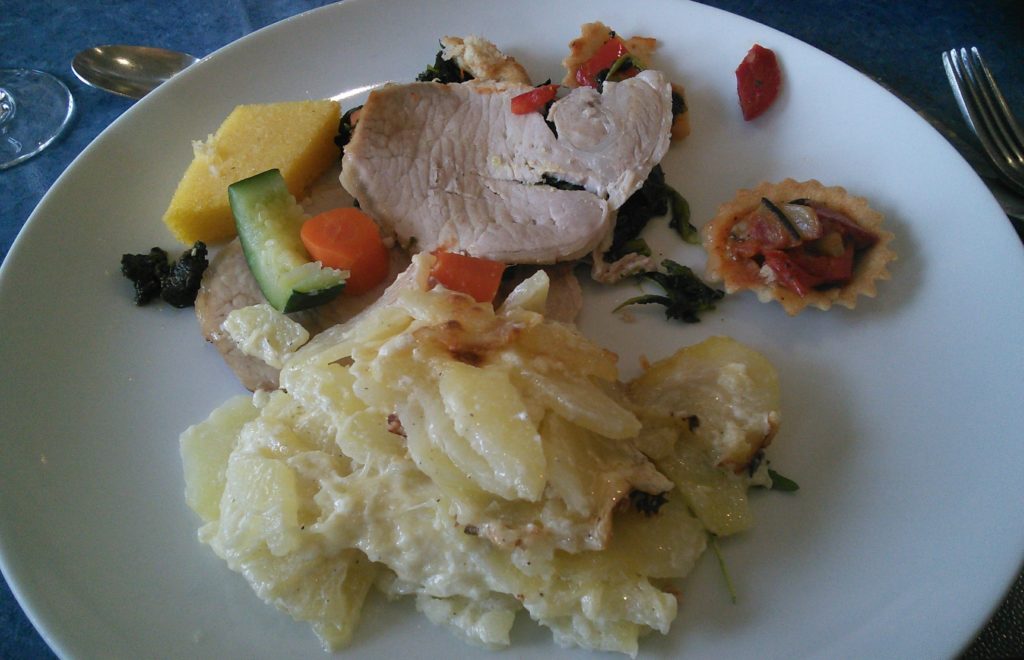 Lunch is served at 1 o'clock and the food is heavenly! But I almost forget how amazing our meals are because we are sitting with our "profs" and expected to converse with them and each other. After lunch, the afternoons begin with "séances practiques" about French basics, like how to order food at a French restaurant, how to invite someone to your house for dinner, how to make small talk and more. These are full of role playing and laughter – the teachers are engaging and delightful. Then there is more class, more conversation, more THINKING in French. Tea is served at 4:45 – if you like you can linger and parler until 5:15 when you can leave the grounds and you're, finally, allowed to scream in English if you choose. 🙂 (I didn't actually hear anyone do that.)
Does this all sound exhausting? It is. Each evening I return to my flat, do my homework, eat dinner while watching French television and flop into bed, enervated. (Optional outings are offered after hours – seriously, I was too wiped out to participate.)
A few additional observations:
One area of tremendous comfort for me: I'm in Chronological Good Company here at the Institut. A lot of retirees (like myself) enrolled but also a smattering of 20-somethings with a good measure of professionals in their 30s and 40s.
And no celebrities (thankfully!) materialized. But everyone I met was impressive – well-traveled, interesting, and from all over the world (the U.S., Norway, Australia, Japan, Canada, Germany, the UK…).
Twice weekly, before classes in the morning, we have the option of joining with the other intermediate/advanced classes for a curated dose of les infos (the news). We listen to three different accounts of current international events, reported on French news stations, and then we're asked questions about those topics. Another aspect of the Institut's "total" approach.
About that two euro "français seulement" rule? I didn't actually witness anyone being fined for speaking English, although I did occasionally here un peu d'anglais, usually whispered. And, yes, I did violate the rule a few times. "Oh shit!" was a recurrent slip up at first; I progressed to "Merde!" by the end of my stay.
Finally, the answer to the most important question: Does L'Institut's approach work? Absolument! There can be only one reason why the Queen of Norway, the former Brangelina – even Vidal Sassoon – opted for this school when they wanted to improve their French: This rigorous and professional program gets results.
Even I – with my two-week stint and my sky high anxiety level – saw my French improve immensely. The L'Institut program is exhausting (mentally and, indeed, physically) yet it is very, very rewarding. I would not hesitate to recommend it to anyone.
Le Français Chez Claudine
Right off the bat there is a different ambience with Claudine. It is intimate, one-on-one, just you and this kind, incredibly smart woman whose goal is to help you improve your French. It's the opposite of intimidating (although – true to form – I was still apprehensive about it all).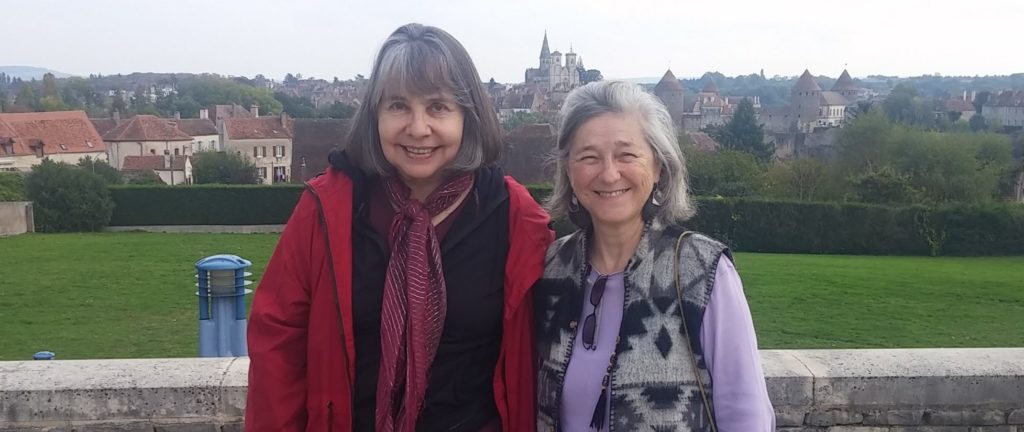 Your week starts on Sunday with a bienvenue, get-to-know-you dinner prepared by Claudine. My anxiety level begins its rapid decline as Claudine greets me with a warm smile and shows me around my home away from home (my expansive one-bedroom apartment was directly below hers – easy commute!)
Dinner is a multi-course immersion in French dining – all, truly, part of the curriculum with Claudine. A sweet wine aperitif is served first. Next onion soup. The main course is a regional specialty with beans, vegetables and two kinds of sausage (Morteaux and Montbéliard) – and red Bourgogne wine. Followed by a cheese plate and îles flottantes for dessert.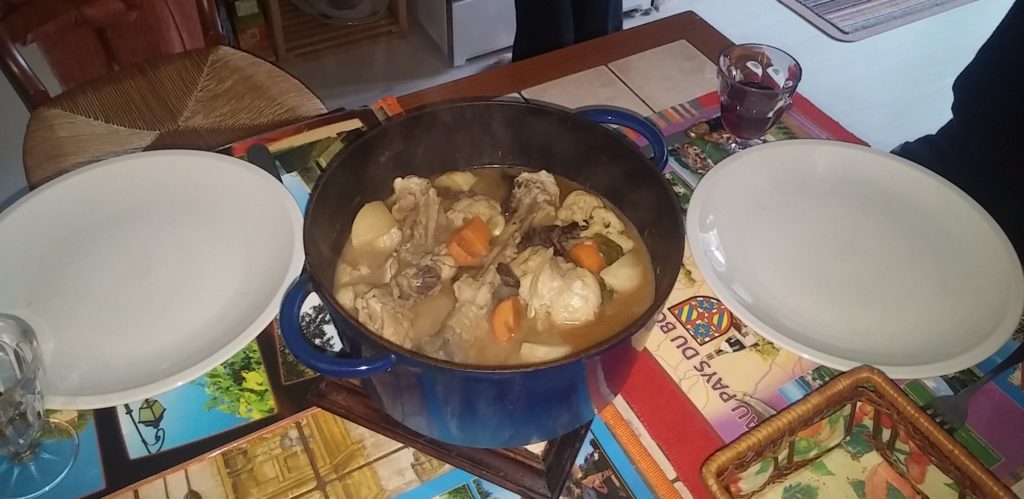 Each morning Claudine arrives early for breakfast – bread/pastries, jams/honeys, café au lait – and conversation. At 9 am it's time for instruction.
Claudine quickly ascertains my fluency level. She has a Masters in French as a Foreign Language, has been teaching French to foreigners for 32 years (!) AND speaks five – oh wait, SIX languages: English, German, Italian, Spanish, Japanese – and French, bien sûr. She is an accomplished, diligent and effective teacher.
Make no mistake: This is an immersion program. Our communications are completely in French. Claudine's approach is, in its own way, just as "total" as the L'Institut de Français'. Along with French immersion (although no fines were levied for the occasional slip-up), Claudine utilizes visual aids, homework, excursions, and more. Because it's just you and Claudine, you can feel free to say "je ne comprends pas" and Claudine will accommodate you individually at any point in time. I like that.
Indeed, this one-on-one environment is ideal for my anxiety-ridden ego. Claudine is just so damned nice and encouraging that she makes it all relatively painless – all the while being quite strict and rigorous. (I didn't know that you could be all of those things simultaneously!)
An aside: Staying with Claudine was intimate on many levels – including discussing politics. While I was at L'Institut (in the fall of 2017) the horrific mass shooting at a Las Vegas concert took place back home. It was not even acknowledged at the school, not even as part of the twice weekly les infos sessions. (I was relatively devastated by this senseless slaughter: My older son's roommate had been there, had witnessed the carnage.) On the other hand, I stayed with Claudine during the lead-up to the 2016 elections. We had many conversations about le cauchemar that is/was Donald Trump. And we have continued to have them by email.
Each day Claudine prepares another excellent French lunch. I recall endive gratin one day; a delicious quiche another. Am I spending too much time describing the food? No, I am not. Claudine is a great cook and enjoying her lunches while nous parlons français is an integral part of my education. (She graciously provided me with the recipes for several meals by email after I returned home.)
A couple of afternoons I am left to wander Montbard on my own, trying my French out with the (very welcoming) locals. Claudine leads me on a hike (une randonnée) through (and above!) the nearby, stunningly beautiful villages of Noyers-sur-Serein and Semur-en-Auxois on Tuesday. And one afternoon we enjoy lunch and conversation at Claudine's friend Annie's country home. On Friday Claudine introduces me to Montbard's weekly marché in the morning and we have our lesson in the afternoon.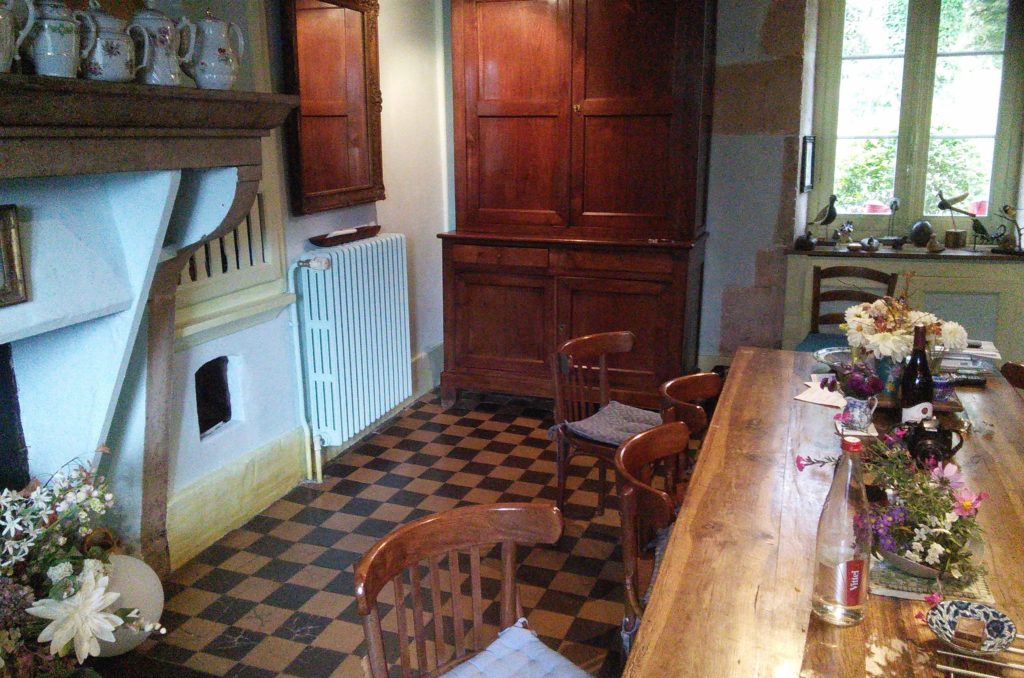 When I leave Saturday morning, I feel like I have made a friend. Indeed, I still keep in touch with Claudine.
The bottom line on my time with Claudine? Her "language homestay" most definitely works. My French certainly improved. I like to joke that I conquered my Fear of Speaking Bad French after my week there – but my French comprehension advanced nicely as well. I only wish I had planned to stay longer.
The Take Away
A final observation about these immersion "adventures" – because, for me, both experiences were adventures. I realize that I am a privileged member of the First World who has the resources to travel to France and try to augment my French under extremely favorable conditions.
In contrast, there are millions of political/economic immigrants/refugees around the world at any point in time. Most are desperate; survival is their only goal. I can only imagine what they would say about the "immersion" experience. It's not an adventure for them, at least not a voluntary one. It's not a vacation; they aren't taking in the sights, buying souvenirs. They don't get to go back to their homes, families and friends. And if I'm somewhat exhausted even with all of the help I received, I'm thinking that they are barely hanging on…
With that reality check/caveat, I can state unequivocally that I would not hesitate to recommend enrolling in either of these programs. Or both programs (as I did).
Indeed, I may well return to one or the other – or both. Oh, and I will probably look into others. My older son recently moved to Albany, New York, just a three hour drive from the Quebec border. I'm thinking I should check out their offerings too.
Pourquois pas?
Quick Links:
Follow Marie Sherlock on twitter at @SherlockTravels:
And on instagram @restlessandretired: